I keep getting asked about it, so here are my thoughts on the 'new' EGM…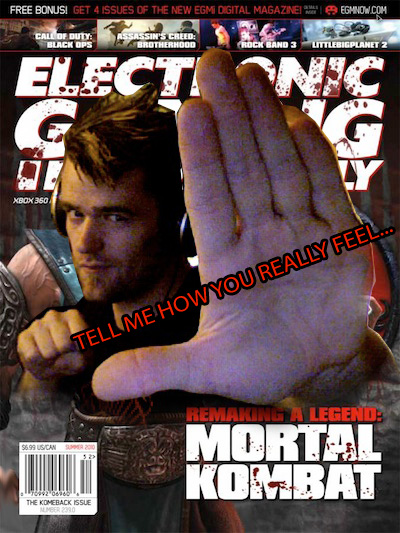 Ahhhhh EGM… we go back, don't we?…
Whippin Sean vs EGM/Ziff Davis
Since those days, Shoe and I have traded emails here and there and commended each other's work, though I think I am the bigger fan of his then he mine 😉  What can I say, I actually loved EGM and it was always in my top 3 of all time fave video game magazines.  Fun is fun, that's all that video was, to piss people off and have fun and not to be taken so seriously… here is something I saved from last year right when EGM closed it's doors and Ziff Davis was losing a lot of money…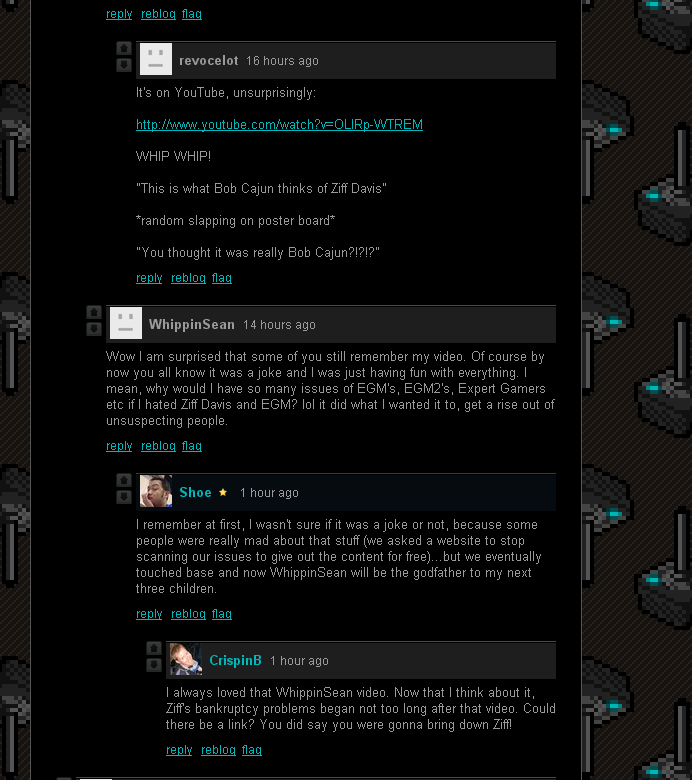 Heck, even Crispin Boyer loved it 😉  To me, that is success!
Now onto the real burning topic.  Neo EGM, New EGM, EGM Now… whatever the fuck you want to call it, is simply not EGM.  It may have the name, some contributions from past editors, etc but that does not make it EGM.  Think of it like when a huge band suffers a major lineup change, and the result is never the same as the original, even if the intentions are good and just, we like what we like and are used to certain things.
The one major problem I have with the new EGM and why I will never support it or buy it is because the EIC is Billy Burghammer and we have sort of a history that started over 10 years ago.  I don't care to discuss AGAIN what the history is, but just know that I don't respect him as a game journalist and probably not even as a human being, but saying that would be unfair because I have never met the mother fucker.
As if that wasn't enough to make me not interested, it's also the simple fact that I stopped buying Videogame magazines half a decade ago because of the internet and the speed of getting game news up to date, to the minute, to the second.  Plus, game trailers I can view online, see as many pictures as I want, watch gameplay videos from users on YouTube etc; I'm really not trying to come off as forgetting what makes a magazine a great thing… I'm just being realistic.
However, I did flip through the recent issue of EGM with Halo on the cover.  I wanted to honestly hate it… the first thing I went to was Billy's editorial about wanting a revolution, but not like this… and I felt like stabbing the side of my head with the nearest, sharpest object because I actually agreed with his opinion and have been saying something very similar for awhile now.  Aye Aye.   Am I dreaming or perhaps slowly going retarded?
As I skimmed through the magazine further, I was enamored with the slick, very current looking layout and graphic designs of the pages and articles.  I almost felt like buying the damn thing, and who knows… maybe I just might to give it a fair and honest review.
I was also very interested in reading a couple of the articles, especially the one with Vanquish.  That is the appeal of a magazine.  You can buy it, take it with you anywhere, most notably your bedroom on your bed or in the bathroom.  Forget the iPad's and electronic devices with their e-magazine and e-comic books… print media will always have a HUGE chunk of my heart, and this new iteration of EGM, while definitely not perfect nor completely faithful to the EGM I once knew, it is definitely on the right track to being something worthwhile even though it is run by someone I want to slap across the face, and even though they once again feature Mortal Kombat and Street Fighter on the covers… but never Tekken.  That's ok… you can never win them all, certainly not the Iron Fist Tournament.  Whip Whip!
Btw, if you ever doubted how big a fan of EGM I am and gaming magazines in general… here are some of my EGM's.  Got some in their as old as 1993, many from 1999 including the Dreamcast issue with the plastic wrap still intact.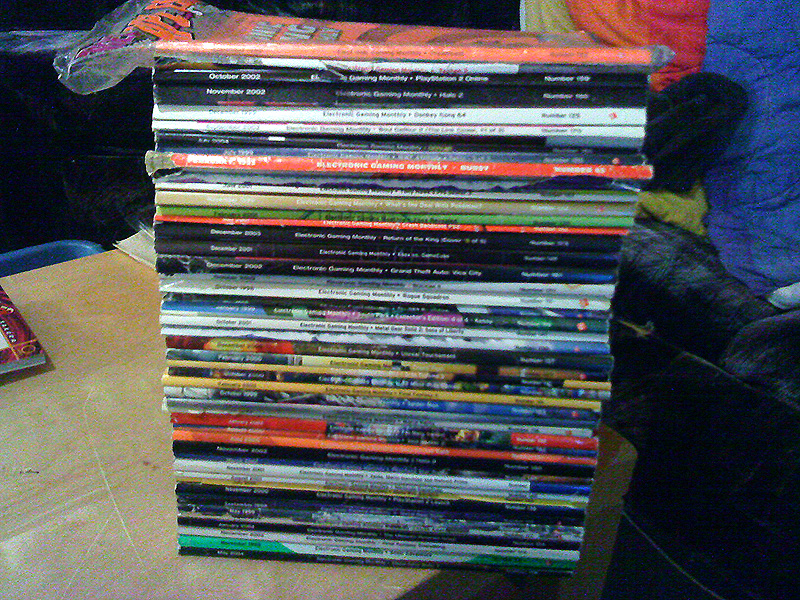 About Author
Comments
comments